The Alphabet Project × US RAGS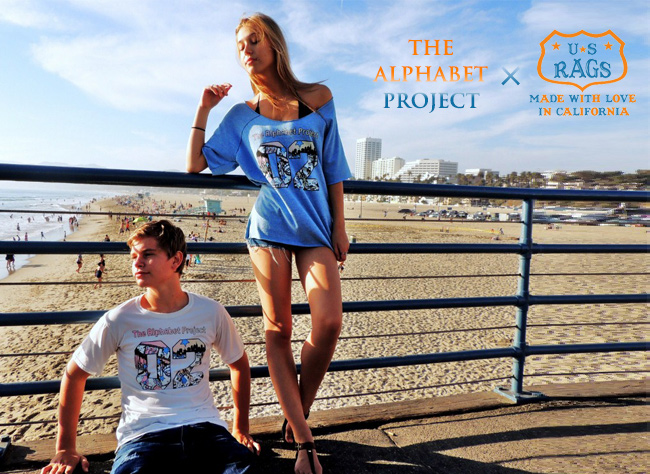 人気カリフォルニアブランドUS RAGSとThe Alphabet Projectの限定コラボTシャツが完成!
The Alphabet Project Fan Studioにて先行販売開始(完売次第販売を終了)
Popular californian casual brand US RAGS and The Alphabet Project's limited collaboration T-shirt is here!
Only for a limited time.
国内有名セレクトショップにも並ぶ、知る人ぞ知るカリフォルニアカジュアルブランドUS RAGS とBlaiseの限定コラボTシャツが完成しました!デザインからプリント、縫製まですべてメイドインUSA、生地も柔らかくナチュラルテイストで着心地抜群、セカンドアルバムMotion Pictureにちなんだデザインも遊びごころ満載で必見です!
US RAGS, a California base clothing line, famous across select shops in Japan, collaborate with Blaise to bring you this unique Vintage style "The Alphabet Project, Motion Picture" edition T-Shirt. Design, Printing, Sewing, all made in the USA, natural taste and comfortable to wear!
US RAGS Official
http://www.usragsclothing.com/
商品の詳細/Details
1.Tシャツ A(S, Mサイズ 男女兼用 色:ナチュラル)/T-shirt A (small and medium unisex color:natural
Small 着丈63㎝ 肩幅39㎝ 身幅45㎝ 袖丈17.5㎝
Medium 着丈66㎝ 肩幅44㎝ 身幅50㎝ 袖丈18.5㎝
2.Tシャツ B(フリーサイズ 女性用 色:ブルー)/ T-shirt B (size free for ladies color : blue
※表記サイズはあくまでも目安としてお考えください。Cotton 80%、Poly 20%で、ストレッチの効いた柔らかい素材が特徴です。
すべて 5,400円(税込)/ all 5400yen (in tax)

※配送と支払い/shipping and payment
支払い方法はクレジットカード、コンビニ決済またはPay-easy、代金引換
詳細は申し込みページにてご確認ください。
国内販売のみ
Cash on delivery (no charge for it).
There is a Shipping fee depending on the area you live.
Please see more information on the order page.
shipping in Japan only.
※返品について/ Refund
万一商品に不備が御座いましたらお手数ですが商品到着後、1週間以内にstaffcontact@blaiseplant.jpまでご連絡ください。
当社理由による返品の送料は当社にて負担致します。それ以外のお客様の都合によるお取り替えや返品の場合は、当社からの送料とお客様からの返送料は、お客様のご負担となります。ただし、タグを外した後、又は一度ご使用になったり、お客様の都合により"汚れ、キズ・破損"が生じた場合は商品の交換・キャンセルおよび返品をお受けいたしかねます。ご了承ください。
If you have any inquiries about this product, please don't hesitate to contact us at
staffcontact@blaiseplant.jpwithin 7days after the product arrives.
If problems should arise with this product, please return it to us in original packaging.
(We will cover the shipping fees)
If by chance the product was damaged upon delivery, please return the product to us in original packaging.
(please note that the purchaser will be charged for shipping fees)
We regret to inform you that we will not accept any Cancellation if the tag on the product is removed, worn,
stretched, torn or any has problem caused by the customer.
※デザイナーについて
デザイナー Oliver Maruna
アーティスト、旅人、ビンテージディーラーとして培ったアートな経験をUS RAGSの制作に注ぎ込んでいる。リーバイス、ラルフローレン、レインスプーナー、ライトニングボルトのビンテージのルーツに影響される。何年かのビンテージ関係の経験を積み、ユニークで現代的な素材を使ったブランドUS RAGSをスタート。
Marunaはカリフォルニア生まれ。何年もの間海外へ旅に出たことをきっかけに、生まれた地の美しさをあらためて深く感じ想うようになり、それがカリフォルニアへの愛情と共にデザインを生むモチベーションとなっている。コンピューターではなく手書きデザインをそのままシルクスクリーンにのせるという新しくひと味違うスキルを用いたどこか懐かしさを漂わせるアートワークだ。
Oliver Maruna, an artist, world traveler, vintage dealer, put together his artistic abilities and experiences to create U S RAGS. He has led brands such as Levis, Ralph Lauren, Reyn Spooner, and Lighting Bolt connect with their vintage roots. With years of vintage experience, he decided to take his knowledge to the next level and start U S RAGS, using unique or period fabrics whenever possible. Maruna, who was born and raised in California, felt a deep nostalgia for the beauty of his native state while traveling for years overseas, and it was this motivation that brought about the sketches that became the designs of U S RAGS;made with love in California. He has taken his exceptional artistic skills to make refreshingly authentic artwork by hand drawing directly onto silkscreen rather than using a computer, keeping with the way of the day and giving the artwork a true old school feel.